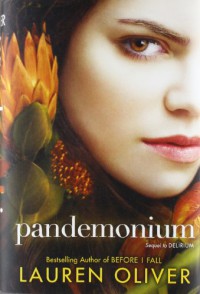 Right now I'm just
THE SHEER JOY AT FINALLY KNOWING, THE JOY OF KNOWLEDGE HAS BEEN BESTOWED UPON ME.
THE COVER LOOKS SO NICE ON MY BOOKSHELF, THE PLOT INSIDE IS WORTHY OF THE COVER, AND LENA OMG I have to calm down.
*ahem*
So we return to the world where love is referred to as Deliria, and it is known as a disease, a virus that is can be transmitted by contact with the other gender (telepathic tranmission?) and Lena of course rebels agianst this and so on... and this book starts right after Lena and Alex try to escape, and Lena is in the wilds! She meets the Invalids there of course, and joins them.
The book alternates between the past and the present- past being after Lena escaped to the wilds and her life therein, and present being, um, I won't be spoilerish >:)
Of course theres a lot of death and dying and love and shenanigans, but that's just the normal of the "what-to-expect" gig from Lena. I hate to quash any hopes, but Alex doesn't appear in the book (aside from maybe ne-ohay appearance) so the blurb is left up to you to interpret but don't worry, the romance part is so deliciously fun oh dear! There's a lot of twist in this book, so many little mysteries and twists you can imagine how much of a shufti Lena would go through. You'd of course need to read the book to find out but I just can't resist saying that things are definitely going to get much more interesting in the next book. ( you'd think we'd know by now, Oliver does love giving us those little cliffhangers)
Lena is devastated in this book, and a little of her OCD-ish behaviour shows but then we also see her becoming more tougher and of course learning more about the world she actually lives in.
Now if Lena, say, has a love interest, just a *cough* hypothetical situation you know?, well let's call him John. John would maybe, be from inside, and hey let's make him a little off limits to Lena too! This John-boy, well let's put him in the same room with Lena for an inordinate amount of time. He of course wouldn't be her usual gig, but hey, Love is blind, isn't it? He's got a hotness factor of course, but he would be that brooding suffering type too. Now Lena, being the headstrong heroine would be put in situation where she can unleash her brave brave skills. Now this boy John and Lena would of course bond together though the gore and fighting and braveness (hypothetical, remember) and then their hand would touch! And then the spark comes and ravishes them too.
But of course, being a hypothetical situation, for all means and purposes, this is merely imaginary and John
does not
exist. *cough*
Well, this review's not much, just me waffling for a lot of lines but isn't my enthusiasm infectious? Now go buy one from the bookstore and you'll see why it render us writing ineffable little nothings when trying to review this.
P.S- Must be a coincidence but I'm listening to Prokoviev's
Montagues and Capulets
- GO LISTEN TO IT oh it just describes everything so. well.
http://www.youtube.com/watch?v=8RFq7cOVDF0 listen from 1:38 onwards OH JOYNESS AND LOVE!